If you're interested in becoming a general contractor in Alabama, this article will answer the questions you have.
How Much Does a Contractor License Cost?
The application fee for the general contractor license in Alabama is $300, payable to the Alabama Licensing Board for General Contractors. It's important to note that the fee is non-refundable, non-transferrable, and must be made by certified check, cashier's check, or money order. Personal and business checks are not accepted.
Is There a Deadline to Turn in my Application to be a Contractor In Alabama?
Yes. You must submit your completed application and fee to the licensing board at least 30 days prior to the board meeting. The licensing board generally meets mid-month, from the 15th through the 19th of the month. Contact the Alabama Licensing Board's website for current information about meeting dates.
What do I Need to Submit with my Application to be a Contractor In Alabama?
A completed application includes:
A Certified Financial Statement Booklet completed by an approved certified public accountant.

A list of four (4) references who can verify your work experience and chosen classification type. The list must be verified by the board no later than 2 weeks before the licensing board meeting, so choose references who agree to communicate in a timely manner.

A Certificate of Existence from Alabama Secretary of State –

If

you are applying as an entity, you must be qualified to do business in Alabama.

Proof of liability insurance.

The Qualifying Party Form, included with the application.

The Bank Authorization Statement, included with the application.
How Long Do I Have to Complete the Process?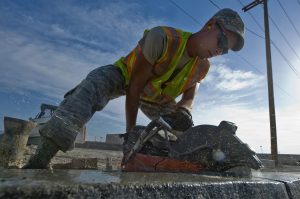 From the time you submit your application to the Licensing Board, each candidate has one year to complete the licensing process. If you do not pass the examination within one year, you must reapply with the licensing board.
I'm a General Contractor in Another State. Does Alabama Have Reciprocity with Other States?
Yes. If you have been licensed continuously for 3 years in the following states with the same classification, you can submit the Verification of License form to the licensing board. Reciprocal states are: Arkansas, Mississippi, Louisiana, and Tennessee.
What is the Test to Get a General Contractor License in Alabama?
Once the board has received your completed application, you will be eligible to take the Alabama Business and Law Exam for General Contractors from PSI. In order to take the 120-minute test, you must have pre-approval from the licensing board, and schedule an appointment to take the test.
How Can I Study for the Alabama Business and Law Exam for Contractors?
There are many ways to prepare for the Alabama general contractor exam. Contractor Exam Seminars offers multiple formats, either written study guides, video seminars, or computer programs.